The new name of H2Mobility+Showis now'H2 MEET'… Covering the hydrogen industry ecosystem!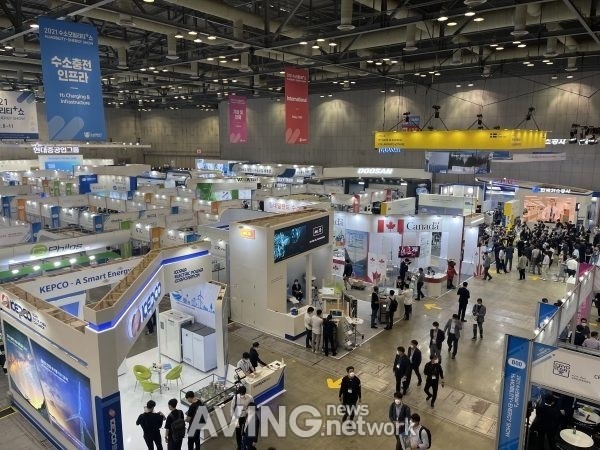 A view of the '2021 H2Mobility+Show' held at the 2nd exhibition hall of KINTEX in Goyang last year | Photo – AVING News

H2Mobility+ShowOrganizing Committee (Chairman of committee, Man-ki Jeong, also Chairman of Korea Industry Alliance Forum, hereafter referred to as the Organizing Committee) held an extraordinary general meeting at the Automobile Center in Seocho-gu, Seoul on the 27th. Through this meeting, theydecided to change the name of 'H2Mobility+Show' to 'H2 MEET' (*Organizing Committee – Korea Industry Alliance Forum, Korea Automobile Manufacturers Association, Hydrogen Convergence Alliance, Hydrogen Energy Network, Korea Hydrogen Industry Association)
At this meeting, Organizing Committee strengthened the intended purpose of an exhibition centered on the overall hydrogen value chain technology, because exhibition field getting expanded due to advancement of technology such as the existing exhibition scope of hydrogen mobility, hydrogen energy, and hydrogen charging infrastructure, Organizing Committee agreed that a name change was necessary to encompass the hydrogen industry ecosystem.
With their new name, 'H2' stands for Hydrogen, 'M' stands for Mobility, 'E' stands for Energy and carbon neutrality(Environment), and 'T' stands for Technology. It also has a double meaning as an exhibition where visitors can feel and MEET the present and future of the rapidly developing hydrogen industry.
Organizing Committee divided the exhibition into production, storage/transportation, and utilization that can encompass the hydrogen value chain based on the changed name, so that new products and technologies related to hydrogen, renewable energy, and carbon neutrality (CCUS, etc.) would be more visible through the exhibition by organizing the layout and also plan to expand the attraction of participating companies.
Man-ki Jeong, chairman of Organizing Committee and chairman of KIAF, said, "With the rising oil price due to the ongoing Russia-Ukraine war, attention and investment of the hydrogen industry is growing rapidly from EU, and other European countries, since hydrogen industry being carbon-neutral and as a means of increasing energy independence at the same time. This exhibition will be an opportunity to check the present and future of hydrogen industries such as world-class domestic hydrogen vehicles and hydrogen fuel cells, and to experience the rapidly developing trends in global hydrogen production, storage and transportation technology."
He added, "We will do our best to prepare for the rest of the time so that participating companies can expand business opportunities such as technology exchange and business alliances through this exhibition."
H2 MEET is the largest exhibition specializing in the hydrogen industry in Korea, celebrating its third anniversary this year, and will be held from coming Aug 31st (Wed) until Sept 3rd(Sat) at the KINTEX, Goyang-si, Gyeonggi-do for 4 days. It is expected to have about 200 companies and institutions from 12 countries around the world and unveil new products and technologies, and to have about 30,000 visitors.
As it is the third year hosting this event, it is expected to grow into a global exhibition in which many foreign companies participate as it is possible to achieve the qualifications for international exhibition certification by Association of Korean Exhibition Industries under Ministry of Trade, Industry and Energy from the next year.